Sustainable cocoa, for endless joy
Since 1 October 2021, Leonidas has embraced the use of certified cocoa to craft our delectable chocolates. This transition aligns perfectly with our century-long mission to bring moments of joy to chocolate lovers across the United Kingdom.
Thanks to this certification, the lives and working conditions of 2,450 cocoa growers and their families have significantly improved. We are proud to support fair and stable wages for these farmers, as it is our contribution towards creating a better world for both humanity and the planet.
In our pursuit of spreading happiness, we want Leonidas chocolates to be accessible to all. Therefore, we have taken on the additional costs associated with sustainable cocoa without raising our retail prices. This way, we ensure that our delicious treats remain affordable for everyone.
Experience the taste of pure bliss with our certified cocoa chocolates at Leonidas.
Three labels, a common spirit
We have made a conscious decision to align ourselves with the esteemed Rainforest Alliance and Cocoa Horizons programs in our journey towards sustainable cocoa. These programs provide exceptional assurances for the cultivation of cocoa that is environmentally responsible and socially beneficial.
By joining these initiatives, we aim to elevate the livelihoods of cocoa growers by enhancing the quality and productivity of their crops, while also prioritizing the protection of children and the elimination of deforestation.
Furthermore, we have proudly signed the 'Beyond Chocolate' charter, an influential Belgian initiative that unites participants in the active fight against deforestation and the commitment to providing cocoa growers with a fair income.
At Leonidas, we are dedicated to promoting sustainable practices and making a positive impact on the cocoa industry. By partnering with these organizations and participating in these charters, we strive to contribute to a brighter and more sustainable future for cocoa growers and the environment.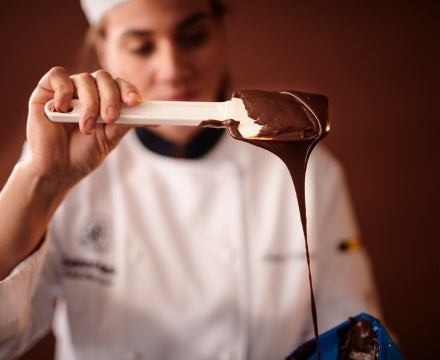 Sustainable chocolate, for the same price
At Leonidas, we firmly believe that everyone should have access to our exquisite chocolates. That's why we have taken it upon ourselves to absorb all the costs associated with our commitment to sustainable cocoa, without imposing any price increases on our valued customers.
By indulging in our chocolates, you not only savour the delightful flavours but also contribute to a future that respects and preserves our planet. And the best part? You don't have to spend a single extra penny!
Rest assured, our commitment to sustainability does not compromise the quality standards we hold dear. We continue to create chocolates using 100% pure cocoa butter, without the use of palm oil, and with the finest ingredients available.
The introduction of sustainable cocoa has ignited a world of chocolatey inspiration for our Master Chocolatiers. They are thrilled to work with this exceptional raw material, allowing them to craft chocolates that are not only delicious but also contribute to a more sustainable world.
At Leonidas, we invite you to indulge in our exquisite chocolates guilt-free, knowing that your enjoyment aligns with our dedication to sustainability and the preservation of our planet.