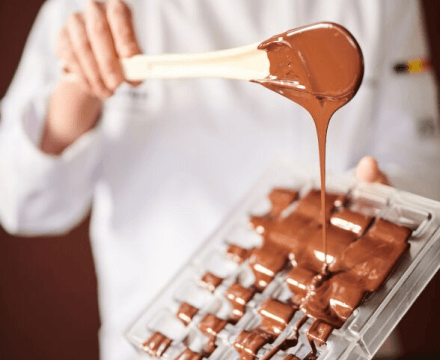 As Leonidas Master Chocolatiers, we pride ourselves on our unwavering commitment to quality and our conscientious approach towards the environment.
Purity at Our Core
Quality is not just a requirement for us; it is an obsession. We, as Master Chocolatiers at Leonidas, meticulously ensure that only the finest ingredients are part of our creations. At the heart of our chocolates is a key element – pure cocoa butter.
Cocoa butter: We use only pure cocoa butter in our chocolates, a choice that lends a unique smoothness and taste, thus elevating the experience for our consumers.
Saying No to Palm Oil
While many brands may resort to palm oil as a cheap alternative to cocoa butter, we at Leonidas have chosen a different path.
Palm oil-free: Our chocolates do not contain a single drop of palm oil. This choice stands as a testament to our dedication to quality and sustainable practices.
When Taste Meets Sustainability
But why this firm stance against palm oil? The answer lies in the intersection of taste and sustainability.
Superior taste: The use of cocoa butter enriches our chocolates with a distinctive flavour unmatched by palm oil. This choice undoubtedly enhances the taste of our products.

A greener planet: The production of palm oil often leads to deforestation and habitat destruction, threatening global biodiversity. By consciously avoiding palm oil, we at Leonidas contribute significantly towards preserving our planet.
In conclusion, as Leonidas Master Chocolatiers, we are not just creators of delicious chocolates, but also guardians of quality and sustainability. Every bite into a Leonidas chocolate isn't merely a moment of indulgence; it's a testament to our brand's respect for both taste and the environment. Enjoy your next Leonidas treat knowing you're part of a tradition that cares for the planet, one chocolate at a time.